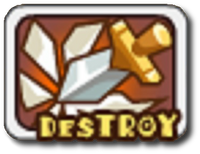 DestructionEdit
An attribute type.
Materials
Edit
List of Materials containing this attribute:
Weapon Type
Edit

Secondary Properties
Edit
Each weapon will attain a specialized prefix when more than one attribute has points invested in it during the forging process. This prefix is determined by the attribute that has the second highest amount of points (stars) in it.
| Stars Needed | Prefix added |
| --- | --- |
| | Powerful |
| | Heavy |
| | Madness |
| | Destructive |
| | Doomsday |
---